Guardian Angel Spirit on Guard (A Thai Spiritual Lion named Sing Toe) adorned with Buddhist Icons .... In Northern Thailand (where Big Gym City is located) …. There is belief in "Animism" which is that things (such as trees, rivers, stones & even plants [like Aoe Vera]) have living souls .... It is a belief in a spiritual presense, worthy of respect (& sometimes fear) .... That is why you will often see the trunks of old trees encircled with orange or red/brown cloth sashes .... Even if you do not believe in such traditions, definately better not to laugh (or scoff) at such 2,500+ year old beliefs ... Just remember that every "sensible" person once knew the world was flat .... Thank You Zeek.

______________________

HOW TO TIE & USE THE HIGHWAYMAN'S HITCH
The Highwayman's Hitch (Version 1) is (as it's name implies) supposed to have originated when "bandits" used it to secure their getaway horses with a quick release knot (used without tying the two "ends" together to the rear of a passenger or bullion coach being robbed .... This is indeed a VERY fast quick (if somewhat unstable) knot which can be used in parallel circumstances (e.g. tie your sword under the frame of your bed at night, or a suitable "alarm" object above a door which will release when the door is unexpectedly opened etc)
The Highwayman's Hitch (Version 2) can be an almost magicaly fast restraining method (when used with the "lock" knot) that can be (with practice) applied using two short lengths of line (or four if also securing the feet) at truly lightning speed (less than 4 seconds per limb) by practiced martial artists (such as/did exist in certain parts of Asia) .... Such skills are now almost a lost art & as exampled below in the illustrated "Mysticism of The Unknown Basic Logic" are open to constructive or destructive use.
______________________________
Sample Pages from "The Art of Shen Ku" .... Introdution to The Martial Artist (Lom Ping & Shen Ku)
THE BASICS OF THIS LOGIC ARE ALSO HELD to be "SELF EVIDENT" in that all skills, talents & abilities can be used to acheive good or bad results & to varying degrees, so that when taken in conjunctiuon with the other 3 logics, a near or distant (in time or space) result can (& will)range from saviour or destroyer of the village or universe .... & THIS VAST & AWESOME POWER LIES WITHIN EACH OF US .
_______________________________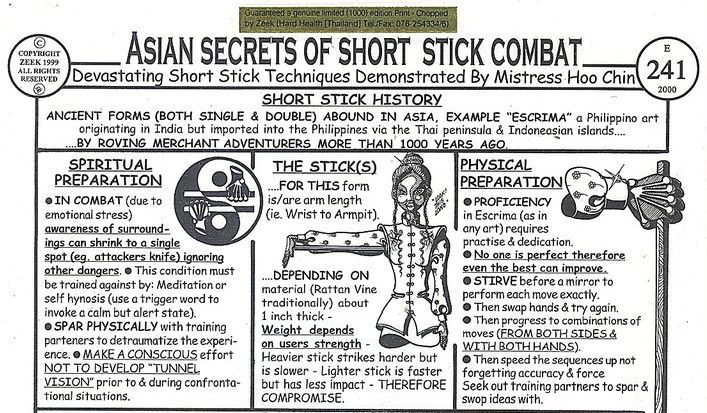 Asian Secrets of Short Stick Combat (page 241 extract) .... Devastating short stick Techniques demonstrated by Mistress Hoo Chin) .... This is a part page view (because my publisher says "Zeek, don't give too much away on your website please" ....Ok, Ok, anyway this is about ancient "forms" (both single & double) which abound in Asia (for example "Escrima" cfrom the Philippines but history tells that it actually originated in India & was migrated down the Thai peninsula & thru the Indonnesian Islands by mechant adventurers more than 1,000 years ago.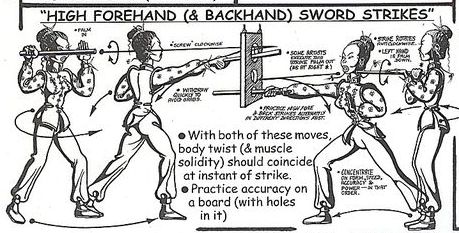 Asian Secrets of Short Stick Combat (part view of page 242) .... Miostress Hoio Chin demonstrates one of the many practice techniques (High Forehand & Backhand "Sword Strikes") .... Don't forget please that knowledge of martial art techniques carry moral & legal responsibilities 1.)Never strike the first blow (unless threatened with a weopon) .... 2.) Don't use excessive force .... 3.) Stop when out of danger .... 4.) Temper & martial arts are incompatible.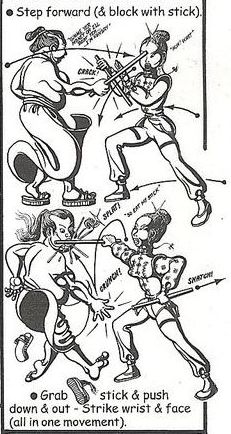 With practice effective against all non projectile weoponry ... Mistress Hoo Chin executes a classic High Disarm Block... "Wow! Hoo Chin ... now Yo Yo Brain has broken his flip flop & got a fat lip! ... "I soly but he do pinching my bottom agains ... I must to smack he hard teach he lesson not be lude" .... (Illustrated extract from page 242)
_________________________________________________
"THIS ANCIENT BOOK" IS NOT NECESSARILY THE ART OF SHEN KU.... NOR EVEN MUST IT BE A BOOK....BUT THE MARTIAL ARTIST (SHEN KU,) ILLUSTRATED, "MUST" TURN TO IT .... (AS WE ALL ALSO MUST ).... IN PURSUIT OF EXCELLENCE (FOR BETTER OR WORSE) & OUR UNCERTAIN DESTINY.

Thank you for reading my illustrated interrpretation of the 4 logics .... May I wish you well in your persuit of excellence, & when you find it (as you surely will).... & may it beneifit us all.....Signed Zeek (2000)
_________________________________________-
ASIAN SECRETS OF HAIR DIAGNOSIS ( Illustrated part extract from page 199 in The Martrial Artist Section of The Art of Shen Ku.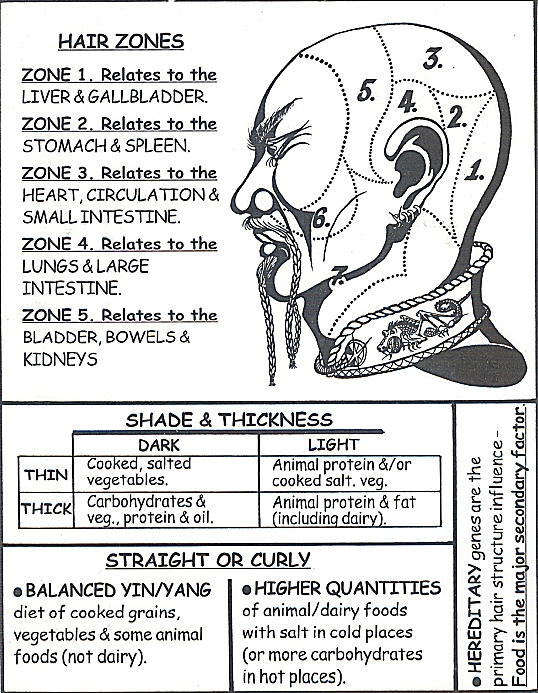 DETECT & ANALYSE HEALTH PROBLEMS BY HAIR GROWTH STUDY .... Oriental medicine holds that the condition of hair (or lack thereof) on various parts of the head CORRESPONDS TO PARTICULAR BODILY FUNCTIONS &/or ailments .... Covers Symptoms, Locations & Indications (variously relating to: The Liver, Gallbladder, Stomach, Spleen, Heart, Circulation & Small Intestine, Lungs & Large Intestine, Bladder, Bowels & Kidneys [please don't forget that this is only a part view of page 199).
---------------------------