Guardian Angel Spirit on Guard (A Thai Spiritual Lion named Sing Toe) adorned with Buddhist Icons .... In Northern Thailand (where Big Gym City is located) …. There is belief in "Animism" which is that things (such as trees, rivers, stones & even plants [like Aoe Vera]) have living souls .... It is a belief in a spiritual presense, worthy of respect (& sometimes fear) .... That is why you will often see the trunks of old trees encircled with orange or red/brown cloth sashes .... Even if you do not believe in such traditions, definately better not to laugh (or scoff) at such 2,500+ year old beliefs ... Just remember that every "sensible" person once knew the world was flat .... Thank You Zeek.

______________________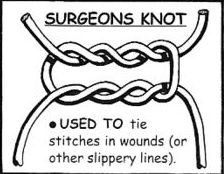 HOW TO TIE & USE THE SURGEON'S KNOT

The Surgeon's Knot is a simple modification of the Reef (or Square) Knot .... It can be tied in several slightly different ways according to the proposed purpose (& type of line) .... but the desired result is to add additional security to the famous Reef/Square Knot which in it's traditional form is only marginally trustworthy (can slip, come undone or break open/collapse [if kinked or one end lifted or snagged]) ....
Therefore the additional "tuck(s)" are taken to add friction which makes the knot more secure. This knot is used in multipe professions such as surgery, marine, trucking, packing parcels/letters (previously with a ring imprinted wax seal ON the knot (in Asia & Europe) .... Surgeon's knots are also used in fishing (fly, net & line) & in jewelry workshops.
_______________________

Sample Pages from "The Art of Shen Ku" .... Introdution to The Physician (The Black Monk & The Aged Sage )

THE BASICS OF THIS LOGIC
HOLD THAT IF WE WERE TRUELY IN CONTROL OF OUR INTELLECTUAL & SPIRITUAL CAPABILITY DEVELOPMENT THEN NO END IS TOO DISTANT .... Are we thus moving closer to an identification of "God" with this logic ...?
_________________________




.... IF THIS LOGIC IS TOO COMPLEX FOR YOU ( or I) THEN CHOOSE ONE OF THE 4 BELLS, & STRIKE IT NOW .... or you (& I) must surely carry our "sins & tears" to The Aged Sage!