This photo kindly loaned to shenku.com by the owner of Big Gym City because it is an "artistic picture of mystic beauty" attractive to our "earthly" eyes & no doubt to those of intergalactic viewers also.
____________________________



Sample Page from "The Art of Shen Ku" .... The Physician (Vitamins-Rapid Reference Deficiency Chart)
VITAMINS A, B1, B2, B3, B5, B6, B12,B15, B17 (DEFICIENCES, NATURAL SOURCES, OVERDOSES.) RELATING TO....BURNING, ITCHY, DRY, PAINFULL EYES, SCALEY SKIN & SCALP, SPINE & LUNG INFECTIONS, FREQUENT SKIN ULCERS & VIRAL DIARRHOEA, POOR HAIR QUALITY, FATIGUE, NAUSEA, DEPRESSION, BERI BERI, POOR APPETITE & MEMORY, SLOW HEARTBEAT, MUSCLE WEAKNESS, GASTRIC DISORDERS, BREATHLESSNESS, BLOODSHOT & GRITTY EYES, CRACKED LIPS, SLOW GROWTH, HAIR LOSS, TREMBLING, DIZZY, INSOMNIA, SLOW BRAIN, SORE TONGUE, INDIGESTION, GASTRIC AILMENTS ( INCL. ULCERS), FATIGUE, DERMATITIS, HEADACHE & NAUSEA, ACNE, SCHIZOPHRENIA, LEG CRAMPS & ARTHRITIS, PREMATURE GREY HAIR, EXCESS SLEEP NEEDS, IRRITABILITY, REDUCED IMMUNITY, CONSTIPATION, ASTHMA, SPLIT LIPS DRY SCALY FACIAL SKIN, SWOLLEN BELLY, FINGERS &/OR ANKLES, SENSITIVE TO SUN, ANAEMIA, FITS, KIDNEY STONES, HEART PALPITATIONS, BREATHLESSNESS, SURE SMOOTH TONGUE, FEELING WEAK, APATHY, MEMORY LOSS, AILMENTS OR PREMATURE AGING OF NERVES, BRAIN & SPINE, GLANDULAR & HEART AILMENTS, CELLULAR DETERIORATION, OXYGEN DERIVATION IN CELLS.

_____________________________________________

Sample Page from "The Art of Shen Ku" .... The Physician (A Travellers Guide to Reflexology Zones)
REFLEXOLOGY (HOW TO DIAGNOSE & TREAT ALL BODY PARTS & AILMENTS) + IMPROVE IMMUNITY.
______________________________________________________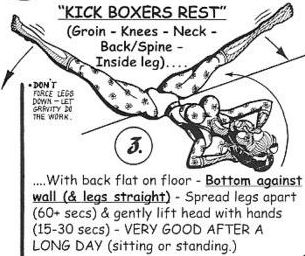 HOW TO STRETCH & RELAX GROIN, KNEES, BACK/SPINE & INSIDE LEG (illustration extract from page 216)
This stretch is also VERY good as a relaxation position for upto 30 minutes ([rebend & straighten legs every 5 minutes] you can even watch TV or read a book) which is VERY beneficial to varicose veins & ruptured capillaries (in the legs) & persons suffering from fluid (& fat) accumulation in the legs & ankles ("Fat Legs") .... The position is also VERY beneficial to workers who have been standing up all day (or for long periods) to remove "stagnant blood accumulations from the ankles/legs ... It is unfortunate that this position is impractical to assume on long air or road trips to reverse gravity induced stagnant blood accumulation caused by prolonged inactivity in a vertical (or seated) position .... On such long journeys always try to exercise your legs hourly or (worst case scenario) assume a seated (or alternate leg) vertical fetal position periodically.... Zeek
______________________________________